Babyfon
A baby monitor watches over your baby's sleep so that you can stay calm in another room of your apartment or house. The baby monitor gives you security.
---

Babyphone with a range of up to 150 meters
reer
34,07 EUR
Weight per unit:
0,75
kg

Easy to use and reliable baby monitor - 400 m range - lots of practical ...
reer
48,69 EUR
Weight per unit:
0,57
kg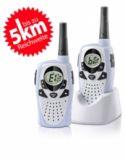 Babyfon with walkie talkie function    
reer
136,46 EUR
Weight per unit:
1
kg
Page:
1